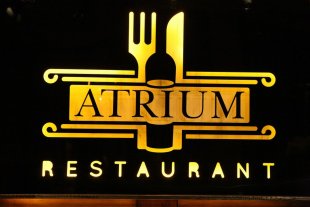 Restaurant "Atrium" was opened on May 15, 2015.

Restaurant "Atrium" has a unique design and a cozy atmosphere. In "Atrium" you can taste Georgian and European dishes, as well as delicious steaks and pizza.

The restaurant has a summer terrace. Summer cooling system effectively ensures your maximum comfort.

You can also plan weddings and corporate events in the restaurant.

Quality is our priority.

P.S. Age Control/Persons under 18 years are not admitted. Alcoholic beverages will not be sold to persons under 22.
The restaurant has dress code, its prohibited to enter Atrium in sports clothes..
Opening Hours:

Reception hours: 12:00 pm to 12:00 am

Restaurant works from: 12:00 pm - 01:30 am